Patient Self-Referral
There are services that patients can self-refer themselves to, to receive the help and information they need without having to speak to a GP first. These range from Mental Health, Counselling, Termination of Pregnancy, Phlebotomy (blood tests) and X-Rays. We have provided contact information for these services and a useful contact list.
Mental Health
Mental Health can affect anyone of all ages, there are dedicated services available for children and adults to speak to and get the help and advice they need.
Expert Advice for Babies and Young Children
Expert advice on helping babies and young children when they're poorly is available from The Little Orange Book.
Child and Adolescent Mental Health Services (CAMHS)
Children and Adolescents have their own dedicated mental health service to ensure they receive the help they need. CAMHS can be contacted and referred to directly. For further information please visit their website.
Tel: 01642 368400
Website: https://www.tewv.nhs.uk/services/stockton-community-team-camhs/
Tees Valley Crisis Service – Mental Health Emergency
There is a new patient self-referral number for the crisis team. The new number makes it easier for those in mental distress, including children, older people and those with learning disabilities and/or autism, to get urgent help they can be contacted on:
Tel: 0300 0200317
Website: http://www.tewv.nhs.uk/crisisadvice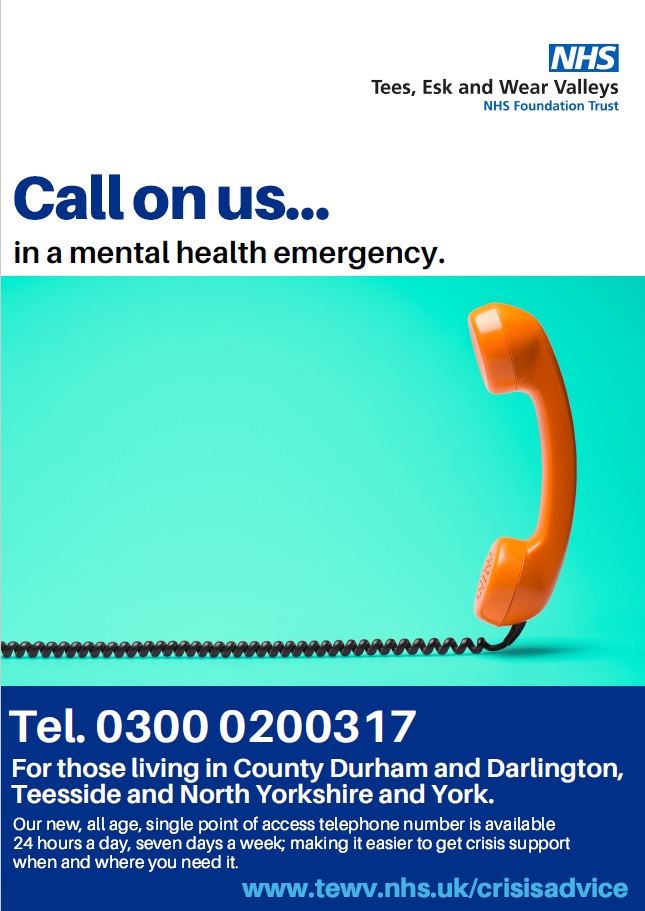 Counselling Services
Counselling is a form of Talking Therapy, it is treatment involving talking to a trained professional about your thoughts, feelings and behaviour. They aim to give you a safe time to talk and help understand yourself better.
IMPACT Teesside
There is a new Psychological Therapy Service patients can self-refer into. It's called IMPACT on Teesside and their contact number is: 01642 573924.
The new service is called IMPACT on Teesside and has replaced the previous NHS Any Qualified Provider Model, which was delivered by 5 different providers. It includes talking therapy services (IAPT) and Counselling, and also incorporates the Wellbeing and Outreach support previously provided through the Living Life services in South Tees (provided by Middlesbrough and Stockton Mind) and Mind Skills Recovery College in North Tees (previously provided by Hartlepool Mind).
The partnership delivering IMPACT on Teesside includes:
Alliance Psychological Services Limited
Middlesbrough and Stockton Mind
Insight Healthcare
TEWV NHS Foundation Trust
Tel: 01642 573924
Website: https://www.impactonteesside.com/
Email: enquiries@impactonteesside.com
Termination of Pregnancy (TOP)
Patients that decide on TOP can self-refer to North Tees or the British Pregnancy Advisory Service. They will be talked through the process to help patients make an informed decision.
North Tees
Tel: 01642 624620
British Pregnancy Advisory Service (BPAS)
Tel: 0345 730 4030
Website: http://www.bpas.org
Phlebotomy
Patients that have been asked to take a blood test can attend our walk-in (sit and wait) phlebotomy service available daily from 8am until 12 noon. We advise patients to turn up before noon, the demand changes on a daily basis and we can't guarantee you will be seen the later you arrive. Appointments are available to book online, in surgery and by telephone but an appointment isn't necessary. Please note between 8.oo and 8.30am priority will be given to sit and wait patients who have fasted or who need to leave for work/school drop off etc.
Radiology (X-rays)
North Tees provide a walk-in service for general X-Rays such as Chest, Abdomen, Single extremity etc. between 9am and 4pm, Monday to Friday. Anyone can attend between these hours and no appointment is necessary. Patients referred for a Chest X-Ray must attend the Lung Health Department at North Tees Hospital and not the main X-Ray department.
Macmillan Cancer Support
Campaign with Macmillan, "Do whatever it takes to get involved and help keep supporting people with cancer".
Tel: 0808 808 00 00
Website: https://www.macmillan.org.uk/
Alliance Films
These resources are to encourage people to contact GPs and attend appointments if they have symptoms that could be cancer.
All videos can be accessed through the Alliance website or the Alliance YouTube channel
Useful Contact List
University Hospital of North Tees
01642 617617
Website
James Cook University Hospital
01642 850850
Website
Age UK
01642 805500
Website
Alzheimer's Society
01642 655688
Website
Bridges Family and Carers Service
01642 605222
Website
Citizen's Advice
01642 607445
Cleveland AIDS/HIV Support
01642 244558
CRUSE Bereavement Counselling
01642 210284
Disability Information Centre (based at North Tees Hospital)
01642 624894
GUM Clinic (Genito Urinary Medicine) North Tees
01642 624400
Independent Complaints Advocacy Service (ICAS)
01642 673153
Rape Crisis
01642 225787
Registrar (Births, Deaths, Marriages)
01642 393155
RELATE (Marriage Guidance)
01642 882822
Social Security Office (formerly Benefits Agency)
01642 636000
Website
Social Services
01642 393339
Stockton Borough Carers' Resource Centre
01642 739955
Stop Smoking Service
01642 383819
North East Primary Care Services Agency
01325 553000