Contact Details
Norton Medical Centre
Billingham Road
Norton
Stockton-on-Tees
TS20 2UZ
Tel: 01642 745 350
Contacting the Practice
If you have circumstances which making contacting the Practice in the advertised methods difficult, please let us know and we will assess what reasonable adjustments we can make to ensure we are accessible to you.
The Practice Manager's email address is not advertised for patient use, as it is not an accepted method of contact to the Practice. We have approximately 17,100 patients, therefore the Practice Manager does not have capacity to receive emails directly. Thank you for your understanding.
For alternative ways to contact the Practice:
Opening Hours
Urgent care
Routine care
Monday
8:00am - 6:00pm
8:30am - 6:00pm
Tuesday
8:00am - 6:00pm
8:30am - 6:00pm
Wednesday
8:00am - 6:00pm
8:30am - 6:00pm
Thursday
8:00am - 6:00pm
8:30am - 12:00pm
3:00pm - 6:00pm
Friday
8:00am - 6:00pm
8:30am - 6:00pm
Saturday
Closed
10:00am - 01:00pm
Appointments Only
Sunday
Closed
Closed
The surgery is closed on all public holidays.
For up to date information on our opening times please visit the Opening Hours Page

Ways to make an appointment request/clinical query
Reception
Pop into the Surgery and speak to our Reception Team.
Telephone
Our Reception team are available by telephone on 01642 745 350.
eConsultation
Note: We know that it can be difficult getting through to the Surgery by telephone and apologise in advance for this. We have increased lines but the unprecedented demand for services continues to exceed the number of telephone lines and staff we can have working within the practice. Patients with internet access can complete an eConsultation, please select the banner below: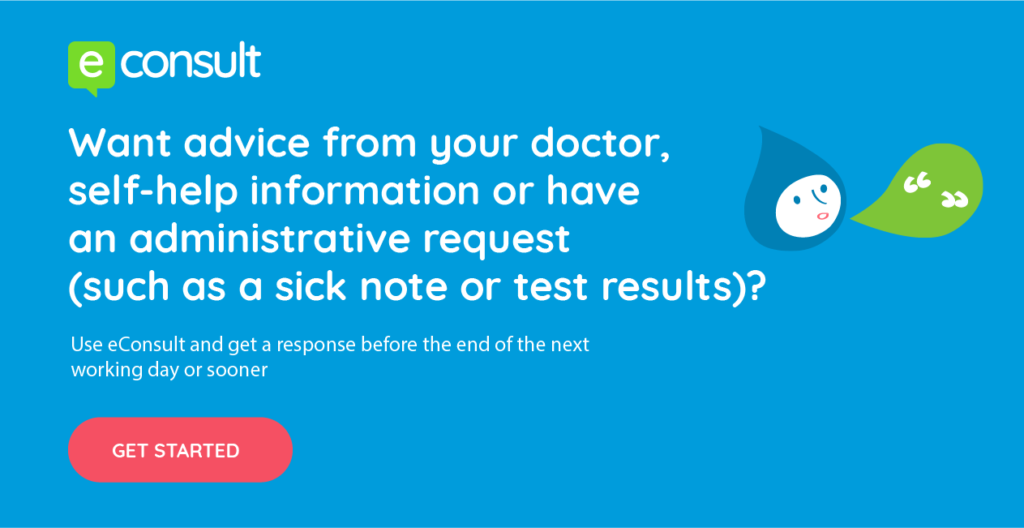 Please ensure you are available to be contacted via the telephone number provided on your E-consultation or in your medical records after completing E-consultation. The surgery may need to contact you to discuss further or to arrange an appointment. Thank you.
You can register for online services as an alternative way to communicate. You may find this a more convenient alternative way to get the support you need, and it helps free up the lines for those patients who are only able to contact us by phone.
Online booking and requests (SystmOnline)
Patients can perform several routine tasks online:
• Book appointments (depending on availability)
• Order repeat prescriptions
• View past/future appointments
• Cancel appointments
• View coded information from your medical records
• View test results
• Update your contact details
• Answer questionnaires

Many patients also have the NHS App on their mobile phone and find this incredibly useful. Not only will it provide your widely needed COVID pass (if applicable), it can also assist in finding advice and order repeat prescriptions. The App is free to download.
If you have not already done so, please complete our Online Services registration form and return it to the Practice along with some identification. Acceptable forms of identification include:
• Passport
• Driving licence
• Birth certificate
• Marriage certificate
• Bank statement
• Utility Bill

If you do not have any of the above forms of identification, please speak to a member of staff. Please note that existing online users will be asked provide identification if they wish to access their medical records online.
Accessing Health Services If Your GP Surgery is Closed or Fully Booked
Every day our clinicians have a set amount of time for telephone, video, face to face and online consultations. We also need to allow time for reviewing hospital letters, blood results, signing repeat prescriptions requests, providing sick notes, etc. Due to this demand on clinician time, we cannot provide unlimited appointments as this would be unsafe and it would compromise the service you receive. Once our appointments are fully booked we are unable to create more, and we are sure you would not want us to run a service where we cancel appointments that are already booked to offer quicker access for one patient above someone else. We have increased our appointments as much as we are able within a safe level and if we cannot offer an appointment at a time you want we will try to provide an alternative or signpost you to other services, including those below, who can help.
Please note: Norton Medical Centre is not an emergency service but we work alongside emergency services to try to meet the needs of our patients. Anyone unable to reach us who feels that they will come to harm if they do not receive medical assistance should contact 111 online in the first instance, or ring 999, where appropriate, to access emergency services.
In-Hours Care
There are a few other options you can use to get the support you need when you need it, including 111 online, self-help, NHS app and community pharmacies.
Out-of-Hours Care
When Norton Medical Centre is closed your local Pharmacist may be able to help with minor ailments (coughs, colds, sore throats, hay fever etc.) or queries about medication.
You can also access medical help or advice by calling 111 or visiting their website. You should use the NHS 111 service if you urgently need medical help/advice, but it is not a life-threatening situation. The call handler will assess your need and direct you to the most appropriate service.
Call 111 if:
• you need medical help fast but it's not a 999 emergency
• you think you need to go to A&E or need another NHS urgent care service
• you don't know who to call or you don't have a GP to call
• you need health information or reassurance about what to do next
• You can also get medical advice by using the NHS symptom checker.

You can find more information about NHS 111 on their website.
For immediate, life-threatening emergencies call 999.
If a health professional has given you a specific phone number to call when you are concerned about your condition, continue to use that number.
Concern or Complaint
If you have a concern or complaint that you would like the Practice to investigate, please write to:
Practice Manager
Norton Medical Centre
Billingham Road
Norton
Stockton-on-Tees
TS20 2UZ
Or you may wish to address your letter to a specific Manager from of one of our departments:
• Reception Manager
• Medicines Manager
You may feel you need help and advice to make your complaint and there are people who can help you. You can contact Healthwatch Stockton on Tees to find out about independent NHS complaints advocacy services in the area:
Healthwatch Stockton on Tees
Catalyst House
27 Yarm Road
Stockton on Tees
TS18 3NJ
For general enquiries Tel: 01642 688312
For information and advice Tel: 0808 1729559
Email: healthwatchstocktonontees@pcp.uk.net
Website: www.healthwatchstocktonontees.co.uk

For more information about our complaints procedure please see our Complaints Procedure Page

Practice Boundary
The area the practice covers is bounded by the A689 in the north, Wynyard Village, Blakeston Lane and Harrogate Lane in the west and Bishopton Lane West and Durham Road in the south. This includes parts of Norton, Billingham, Wolviston, Wynyard Village, Roseworth, Hardwick, Fairfield, Newham Grange, Primrose Hill, and Tilery. Not all addresses in these locations fall within our boundary. Please see the map below, or check with Reception for full details.
Before registering with the practice, please enter your postcode below to check if you live within our practice boundary.