Patient Self-Referral
There are services that patients can self-refer themselves to, to receive the help and information they need without having to speak to a GP first. These range from Mental Health, Counselling, Termination of Pregnancy and Phlebotomy (blood tests). We have provided contact information for these services and a useful contact list.
Mental Health
Mental Health can affect anyone of all ages, there are dedicated services available for children and adults to speak to and get the help and advice they need.
Expert Advice for Babies and Young Children
Expert advice on helping babies and young children when they're poorly is available from The Little Orange Book.
Child and Adolescent Mental Health Services (CAMHS)
Children and Adolescents have their own dedicated mental health service to ensure they receive the help they need. CAMHS can be contacted and referred to directly. For further information please visit their website.
Tel: 01642 368400
Website: https://www.tewv.nhs.uk/services/stockton-community-team-camhs/
Tees Valley Crisis Service – Mental Health Emergency
If you, or someone you know is in crisis please immediately contact the crisis team using the below details:
Tel: 0300 0200317
Website: http://www.tewv.nhs.uk/crisisadvice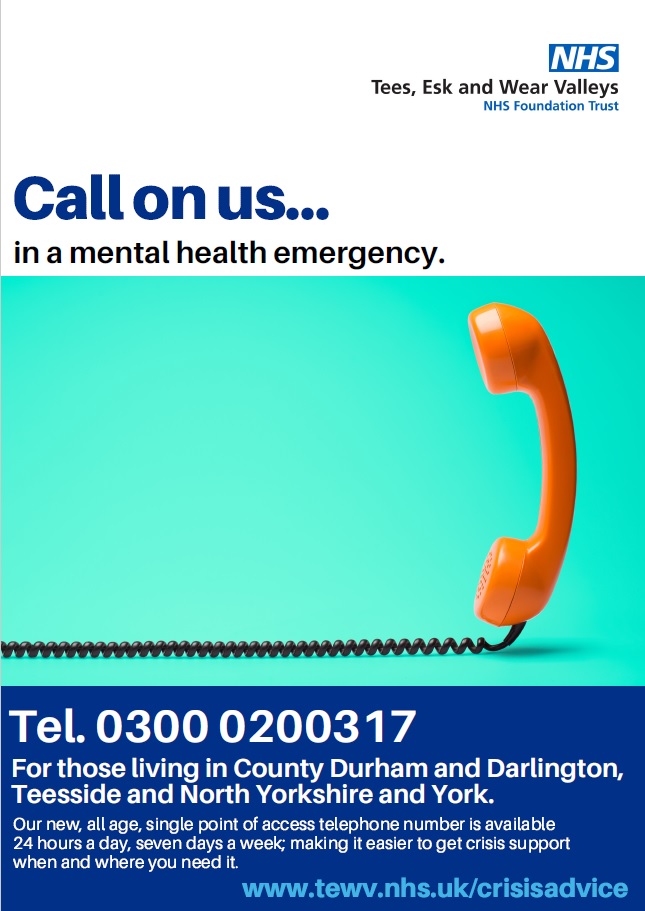 Counselling Services
Counselling is a form of Talking Therapy, it is treatment involving talking to a trained professional about your thoughts, feelings and behaviour. They aim to give you a safe time to talk and help understand yourself better.
IMPACT Teesside
IMPACT Teesside can help you with a range of mental health problems including depression, anxiety and low mood. You do not need a referral from your doctor to access this service and can contact them on:
Tel: 01642 573924
Website: https://www.impactonteesside.com/
Email: enquiries@impactonteesside.com
Termination of Pregnancy (TOP)
Patients that decide on TOP can self-refer to North Tees or the British Pregnancy Advisory Service. They will be talked through the process to help patients make an informed decision.
North Tees
Tel: 01642 624620
British Pregnancy Advisory Service (BPAS)
Tel: 0345 730 4030
Website: http://www.bpas.org
Phlebotomy
Patients that have been asked to take a blood test can attend our walk-in (sit and wait) phlebotomy service available daily from 8am until 12 noon. We advise patients to turn up before noon, the demand changes on a daily basis and we can't guarantee you will be seen the later you arrive. Appointments are available to book online, in surgery and by telephone but an appointment isn't necessary. Please note between 8.oo and 8.30am priority will be given to sit and wait patients who have fasted or who need to leave for work/school drop off etc.
Radiology (X-rays)
North Tees provide a walk-in service for general X-Rays such as Chest, Abdomen, Single extremity etc with a valid referral. between 9am and 4pm, Monday to Friday. Anyone can attend between these hours and no appointment is necessary. Patients referred for a Chest X-Ray must attend the Lung Health Department at North Tees Hospital and not the main X-Ray department.
Macmillan Cancer Support
Campaign with Macmillan, "Do whatever it takes to get involved and help keep supporting people with cancer".
Tel: 0808 808 00 00
Website: https://www.macmillan.org.uk/
Smoking Cessation
You can self-refer to stop smoking services following the link:
Stop Smoking Service Referral Form/
Stockton's Children and Young People Special educational needs and disabilities support
Find out more about services for children and young people with special educational needs and disabilities by visiting Stockton's Local Offer/.
Musculoskeletal Service (MSK)
Patients are now able to self-referral directly for triage and assessment with the North Tees MSK Service. To do so visit the website at iMSK Advanced Assessment and click "Online referral form" and fill out the online form.
Patients that cannot access the website can phone the Specialist Services Admin Hub on 01429 522471 and press Option 1 between the hours 8:30am to 4:30pm Monday to Friday.
iMSK Physiotherapy can be reached at https://www.nth.nhs.uk/services/imsk-advanced-assessment/
Audiology (Community Age-Related Hearing Loss)
Age-related hearing services, which are provided via the Any Qualified Providers (AQP) model.
To make a self-referral to audiology services patients will need to refer to their local audiology provider's policy. Information for patients on making a referral can be found below.
The local Providers are North Tees and Hartlepool NHS FT (NTHFT), County Durham and Darlington NHS FT, Outside Clinic, Minor Ops, Specsavers, and Scrivens.
Patients should be aware that self-referral is only available to patients who meet the current criteria for audiology referrals from GPs.
Specsavers
Patients can call or visit stores in person. The patient will then be triaged by staff for eligibility into the service. Patients can call stores at the following locations:
Stockton Specsavers, 49-51 Wellington Square, Stockton-on-Tees, UK, TS18 1RG
Tel: 01642 037780
Middlesbrough Specsavers, 25/27 Newport Road, Middlesbrough, Cleveland, UK, TS1 1LE
Tel: 01642 036045
Hartlepool Specsavers, Unit 136, Middleton Grange Shopping Centre, Hartlepool, Cleveland, UK, TS24 7RD
Tel: 01429 705024
Darlington Specsavers, 41 High Row, Darlington, County Durham, UK, DL3 7QW
Tel: 01325 968150
Redcar Specsavers, 57 High Street, Redcar, Cleveland, UK, TS10 3BZ
Tel: 01642 037576
Scrivens
Patients can call Scrivens to book an appointment via telephone 0800 027 5102. This number will direct patients to the scrivens Customer Services Team who will then direct patients accordingly into the service.
Patients who struggle with telephone contact can email customercare@scrivens.com to self-refer, or visit www.scrivens.com to book an appointment online.
Minor Ops
Patients can self-refer to Minor Ops via telephone and email booking. Patients should call 0191 9178886 or email hearingcare@minor-ops.co.uk
Outside Clinic
Patients can self-refer to the Outside Clinic via telephone booking. Patients should call 0800 954 9093 to be registered, after which they will receive a call from the Audiology Advisor Team to be triaged over the phone.
North Tees Hospitals Audiology
The North Tees and Hartlepool Hospitals are currently not accepting self-referrals. We are working to improve this pathway to give patients the choice to self-refer to the service in the near future.
County Durham and Darlington Hospitals Audiology
The audiology service at County Durham and Darlington Hospitals is currently not accepting self-referrals. Self-Referral will be available in the future.
Podiatry
Patients can self-refer into the Podiatry Service online at: https://www.nth.nhs.uk/services/podiatric-surgery/ and click "Online self-referral".
Patients that cannot access the website can phone the Specialist Services Admin Hub on 01429 522471 and press Option 1 between the hours 8:30am to 4:30pm Monday to Friday.
Wheelchair Services
Patients will shortly be able to self-refer for assessment into the North Tees Hospitals Wheelchair Service via webform on the North Tees Trust website (https://www.nth.nhs.uk/).
Community Equipment Services
The Tees Community Equipment Services (TCES) will also be self-referral enabled, we are working with the Service and Integrated Single Point of Access leads to enable patients to have access to a health or social care professional, who can then perform an assessment and order equipment directly with the Service.
Pharmacy Services
If you have any of the following issues you may be able to be seen and treat at your local pharmacy:
Acne
Athletes Foot
Cold Sores
Conjunctivitis and other minor eye symptoms
Constipation
Cough, Cold, Nasal Congestion
Cradle Cap
Dandruff
Diarrhoea
Earache
Emergency Contraception
Excessive sweating
Haemorrhoids (piles)
Hay Fever
Head lice
Indigestion
Infant colic
Infant teething
Infrequent migraine
Insect bites and stings
Mild cystitis
Mild irritant dermatitis
Minor burns and scalds
Mouth Ulcers
Nappy rash
Oral thrush
Sore throat
Sunburn
Threadworms
Thrush
Travel sickness
Warts and Verruca's
Alliance Films
These resources are to encourage people to contact GPs and attend appointments if they have symptoms that could be cancer.
All videos can be accessed through the Alliance website or the Alliance YouTube channel
Useful Contact List
University Hospital of North Tees
01642 617617
Website
James Cook University Hospital
01642 850850
Website
Age UK
01642 805500
Website
Alzheimer's Society
01642 655688
Website
Bridges Family and Carers Service
01642 605222
Website
Citizen's Advice
01642 607445
Website
Teesside Positive Action
01642 254598
Website
CRUSE Bereavement Counselling
01642 210284
Website
Disability Information Centre (based at North Tees Hospital)
01642 624894
Website
Sexual Health Teesside
0300 330 1122
Website
Rape Crisis
01642 225787
Website
Registrar (Births, Deaths, Marriages)
01642 393155
Website
Department for Work and Pensions
01642 636000
Website
Social Services
01642 393939
Website
Stockton Borough Carers' Resource Centre
01642 739955
Stop Smoking Service
01642 383819
Website
North East Primary Care Services Agency
01325 553000
Patient Self Help
Patient Participation Group
Appointments
Register as a Patient
Medication Queries
About SystmOnline
Contact
General Information